Merethrond
Jump to navigation
Jump to search
This page is about the feast-hall of Merethrond before the Battle of Pelennor Fields. For the feast-hall after the battle, see Merethrond (After-battle). For the feast-hall at Midsummer, see Merethrond - Banquet Hall.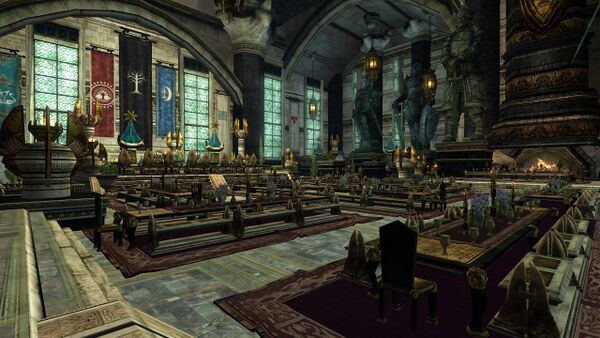 Description
Merethrond, in Minas Tirith, is a landmark in Old Anórien. [65.4S, 19.1W]
This is the great feast-hall of Gondor. Downstairs from the entry hall is a cavernous kitchen and pantry, while upstairs is the banquet hall itself, all but empty now, on the eve of battle.
Quest Involvement
NPCs
Man of Gondor
Woman of Gondor
Gallery