Limlight Gatehouse
Jump to navigation
Jump to search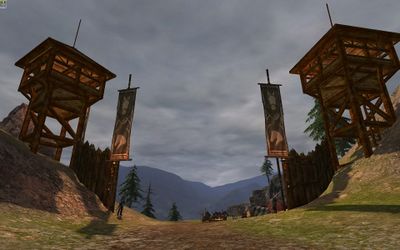 Location
The Limlight Gatehouse is a landmark within Limlight Gorge in the Great River. [25.5S, 67.1W]
It is a travel destination known as the Wailing Hills. It lies on the boundary between the Limlight Gorge and the Wailing Hills.
Services
Travelling
Wailing Hills Stable-master destinations
Deeds
The following deeds can be obtained by visiting this location:
Quests
Starting:
Dailies
Involving:
NPCs
Lore
Captain Agelbrit stands guard at a lonely gatehouse on the upper edge of the Limlight Gorge. His duty is as much to keep unwary travellers out of the Gorge as it is to keep the beasts within from climbing out to threaten the folk of Stangard.