Iant Angos
Jump to navigation
Jump to search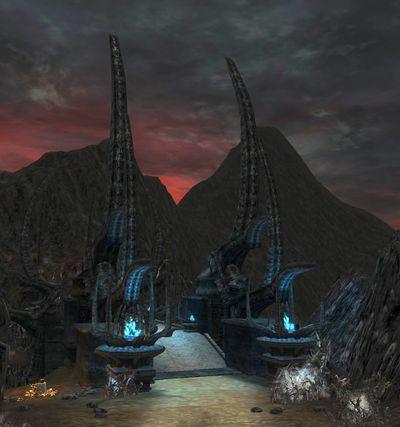 Location
Iant Angos (Sindarin for Bridge of Horror) is point of interest within Lhingris in the Plateau of Gorgoroth. [61.6S, 10.5E]
This great bridge spans a trough between the inner slopes of the Ephel Dúath and the Morgai, connecting Lhingris to Talath Úrui in the east. To the south, water flows out of this gorge down into the swamp of Dath Nethryn. Under the north-eastern corner of the bridge is a ledge which leads to Rath Cail to the north-west.
There is a Milestone at the western end. [61.6S, 10.5E]
Deeds
The following deeds can be advanced by visiting this location:
Quests
Involving:
Lore
Frodo Baggins and Samwise Gamgee crossed this bridge after escaping Cirith Ungol. The alarm was sounded at the Tower, however, and they were forced to jump over the edge to avoid an enemy troop coming up the pass from Talath Úrui. Fortunately, the eastern end of the bridge was no more than a dozen feet above the ground. To their surprise, their fall was cushioned by thorny bushes.[1]
Gallery
Views of Iant Angos.

A short way beyond the way-meeting, after another steep incline, a flying bridge of stone leapt over the chasm and bore the road across into the tumbled slopes and glens of the Morgai.[1]

Away behind them, now high above on the mountain-side, loomed the Tower of Cirith Ungol, its stones glowing dully.[1]

They scrambled on to the low parapet of the bridge. Fortunately there was no longer any dreadful drop into the gulf, for the slopes of the Morgai had already risen almost to the level of the road, but it was too dark for them to guess the depth of the fall.[1]
References