Forlong
Jump to navigation
Jump to search
Description
Lord Forlong "the Fat" is the Lord of Lossarnach and married to Vanyalos, sister of Denethor. When the beacons where lit, he and most of the men under his command came to Minas Tirith to aid in the defence of the White City.
Forlong (Minas Tirith)
| | |
| --- | --- |
| | Forlong |
Forlong can be found in the Merry Swan tavern.
Quest Involvement
Quotes
"Wine unlocks the doors of the heart, but love must light the hearth!" - Dialogue from Near and Dear
Forlong the Fat
| | |
| --- | --- |
| | Forlong the Fat |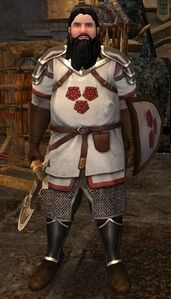 Forlong the Fat joins the defence of Minas Tirith in the Epic Battles Defence of Minas Tirith and Hammer of the Underworld, along with his axemen.
Quotes
"Come now, Golasgil! If any among us could answer that for better or worse, I would already be back in one of the taverns!"
"Don't you worry, Mithrandir! My men and I will handle this on our own!"