Edhellond
Jump to navigation
Jump to search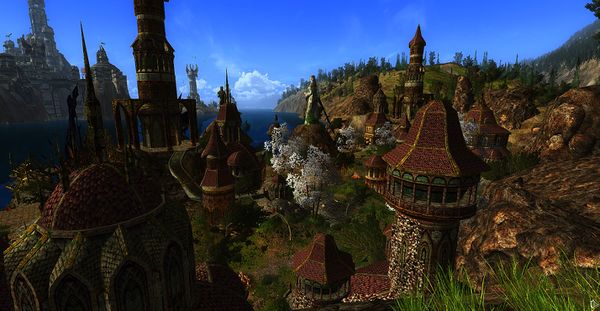 Location
Edhellond is a landmark within Havens of Belfalas in Western Gondor. [71.8S, 66.1W]
Edhellond means "Elf Haven" in Sindarin (from edhel = "Elf" and lond = "harbor, haven").
It is currently overrun by the Corsairs of Umbar, their ships anchored in Cobas Haven.
Quests
NPCs
Creatures
Lore

An ancient harbor, it had been established southwest of where the Ringló entered the Morthond,[1] (the Blackroot River) near where the combined waters flowed into Cobas Haven[2]

Located in the Havens of Belfalas of Western Gondor, Edhellond stands where the River Morthond (The Blackroot River) reached the sea, some fifty miles to the north of the Dol Amroth, in Cobas Haven. Edhellond is in lands under the control of Gondor, but the haven was far older than that land of Men; tradition recounts its founding by the Sindarin mariners even before the end of the First Age.

From Edhellond Elves began sailing westward from the time of the fall of Eregion (in Second Age 1697[3]).[4]

Amroth, Prince of Lórien, was lost at sea near Edhellond in 1981 of the Third Age when he attempted to swim to shore to seek his beloved Nimrodel, the Elf-maid. The ship from which he jumped overboard was the last ship of Elves to leave from Edhellond, which was deserted from then on,[5] although remembered in the traditions of Men in Gondor.[4]
Gallery
References