Dâr Mauzur
Jump to navigation
Jump to search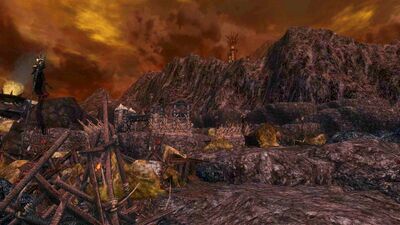 Location
Dâr Mauzur (Black Speech for Cruel Home or Home of the Cruel) is a point of interest within Talath Úrui on the Plateau of Gorgoroth. [55.4S, 9.7E]
This enormous enemy camp lies between the Morgai and the road. The outer part of the camp is in ruins and overrun by the wild creatures of Talath Úrui, but the fortified inner part is still held by Orcs, Uruks, Trolls, and Olog-hai.
The camp has level 112 and level 115 sections, which are divided by barricades guarded by Mordor Guards.
Deeds
The following deeds can be advanced by visiting this location:
Quests
Starting:
Involving:
Creatures
The following creatures are found within this area:
Dragon-kind
Orc-kind
Spiders and Insects
Troll-kind
Beasts
Critters
Lore
Gallery
Views of Dâr Mauzur.

Along the road, Dâr Mauzur lies in ruin and is infested with Dragon-kind.

The soldiers of Mordor still occupy the interior of the camp.

The northern entrance to Dâr Mauzur, through Zagronk.
References