Corsair Blockade
Jump to navigation
Jump to search
"I like this land. It reminds me of the twilit wilds, far away in the North, where my heart remains." - Calenglad
Location Stub
This article or section is marked for missing location information.
Please visit Create new location and help expand knowledge about this wondrous place.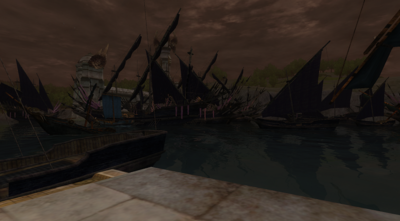 Location
The Corsair Blockade is a landmark in Pelargir in Central Gondor. [85.1S, 31.9W]
Description
When the Corsair fleet assaulted the harbor it was overrun by dozens of warships creating a massive flotilla. When the city was retaken dozens of ships were left destroyed or abandoned, many still remain a constant threat to the city as they refuse to leave the sea gates.
Quests
Involving:
Creatures
The following creatures are found within this area: