The Pier (After-battle)
Jump to navigation
Jump to search
This page is about the Pier after the Battle of Pelennor Fields. For the Pier before the battle, see The Pier.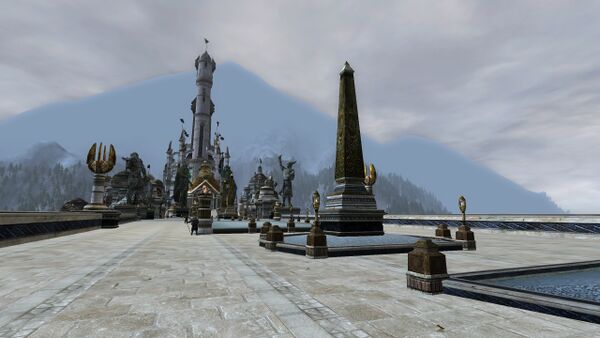 Description
The Pier of Minas Tirith is a landmark in Anórien (After Battle). [65.8S, 19.1W]
The Pier-rock is a spur of the stone of Mount Mindolluin against which Minas Tirith is built. Many of the lower circles of the city cut through the Pier-rock- the Old Archives are dug into the stone itself. The top of the Pier is lined with statues of the kings of Gondor, and at the end is the Watch-point, affording a wide view of the Pelennor Fields below. Despite the widespread destruction, it is a more hopeful sight now than before the battle.
Gallery