The Lord of the Rings Online: Mines of Moria
Jump to navigation
Jump to search
The Lord of the Rings Online:
Mines of Moria
Official logo for Mines of Moria
Mines of Moria
Released
November 18, 2008 (release notes)
Nickname
MoM
Level cap
60
Region added
Eregion, Moria and Lothlórien
Production
First announced
March 14, 2008
Pre-order period
Unknown
Soundtrack
Mines of Moria - Original Video Game Soundtrack, by Chance Thomas and Stephen DiGregorio
Developer
Codemasters
Expansion Chronology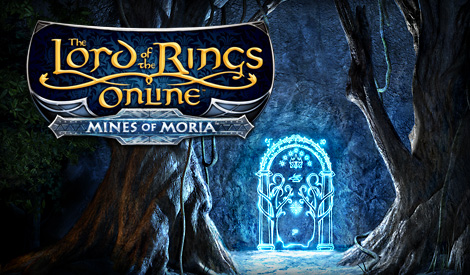 The Lord of the Rings Online: Mines of Moria was LOTRO's first expansion. With this expansion, players could for the first time venture beyond Eriador, crossing The Misty Mountains in the footsteps of The Fellowship of the Ring. The expansion was originally sold in DVD boxes in game stores.
This page aims to give an overview of the release history and the main features of the expansion. A full overview of all game changes can be read in Mines of Moria's release notes.
Content
The Rune-keeper is a master of words, and uses those to either damage his enemies or inspire his allies.[1]
The Warden is a more "tank-y" class and is a master of martial combat, and must strike his blows in such a way to best finish off his enemies.[2]
ancient dwarven treasure
new traits, virtues, skills, class quests
expansion of crafting system
legendary items, that level-up with the player and can be customized by advancing the item's virtues, adding runic legacies, modifying its titles...
dynamic lighting & player lights
World-changing instances
Environment-aware AI
Epic high-level instances:

New adventure instances and raids
Expanded PvMP areas

Leaderboards and achievement rankings
Production and sales
March 14, 2008, Codemasters officially announced the development of Mines of Moria at Codemasters Online Connect 2008. It was scheduled to release in the fall of 2008.
The expansion was promoted through web-based mini games. Playing these games unlocked the trailer and game art.
Players who pre-ordered the expansion received the Mines of Moria - Bonus Pre-Order Soundtrack. The soundtrack was officially released on November 17, 2008. The album was largely the same as the earlier released Shadows of Angmar soundtrack, but with seven bonus tracks added onto the end, including one from the Mines of Moria expansion.
Concept Art
References
See also (external links)