The Grim Southron
Jump to navigation
Jump to search
Description
The Grim Southron is one of the Nine Nazgûl, recipient of Jûru (Herald of Mourning), one of the nine Rings of Power that were forged for Men. Once a king of a Southron people, his name is lost in time, and he is now known by the most common of his many nicknames.
He is encountered several times.
The Grim Southron (Second Age)
| | |
| --- | --- |
| | The Grim Southron |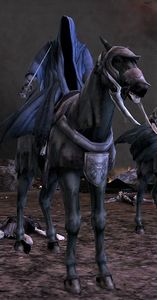 The Grim Southron is first encountered by High Elf characters in the year 3434 fighting against the host of the Last Alliance during the siege on the battle plain at Dagorlad at the end of the Second Age.
Quest Involvement
The Grim Southron (East Rohan)
Advanced Stats
Alignment: ( Evil )
Combat Effectiveness:
Finesse:

Unknown

F.M. Immune:

Unknown

Stun/Mez Imm.:

Unknown

Root Immune:

Unknown

Resistances:
Cry:

Unknown

Song:

Unknown

Tactical:

Unknown

Physical:

Unknown
Mitigation:
Common:

Unknown

AncientDwarf:

Unknown

Fire:

Unknown

Beleriand:

Unknown

Light:

Unknown

Westernesse:

Unknown

Shadow:

Unknown

Frost:

Unknown

Lightning:

Unknown
Level of Lore-master reporting: ( )  
The Grim Southron is encountered menacing The Wold and The East Wall in East Rohan.
Abilities
Quest Involvement
The Grim Southron (Mordor Besieged)
Advanced Stats
Alignment: ( Evil )
Combat Effectiveness:
Finesse:

Feeble

F.M. Immune:

True

Stun/Mez Imm.:

True

Root Immune:

True

Resistances:
Cry:

Superior

Song:

Superior

Tactical:

Superior

Physical:

Superior
Mitigation:
Common:

Remarkable

AncientDwarf:

Remarkable

Fire:

Remarkable

Beleriand:

Remarkable

Light:

Remarkable

Westernesse:

Remarkable

Shadow:

Remarkable

Frost:

Remarkable

Lightning:

Remarkable
Level of Lore-master reporting: ( 130 )  
The Grim Southron is encountered menacing Arandor in Mordor Besieged. [100.0S, 131.0W]
Abilities
Quest Involvement
Deeds