Nethraw
Nethraw is a Ranger and a renowned Lore-master.
As many Rangers travel south with the Grey Company to support their Chieftain, also Nethraw will be encountered at several locations along the Epic storyline.
| | |
| --- | --- |
| | Nethraw |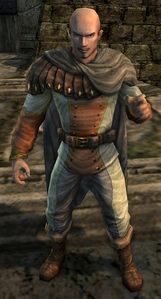 Nethraw (Angmar)
Nethraw is first met at Krúslë Lannan in Angmar. There he is trying to what happened to the missing swords from the seven statues.
See the Seven Swords deed.
Quest Involvement
Nethraw (Enedwaith)
| | |
| --- | --- |
| | Nethraw |
Nethraw is later found at Harndirion, where he functions as the Bard of Enedwaith.
Bards allow players to purchase musical instruments to play music, as well as to equip and manage traits to enhance and modify their character.
Sells
Item
Cost
 

Basic Bagpipe

2  
 

Basic Clarinet

2  
 

Basic Cowbell

2  
 

Basic Drum

2  
 

Basic Flute

2  
 

Basic Harp

2  
 

Basic Fiddle

2  
 

Basic Horn

2  
 

Basic Lute

2  
 

Basic Pibgorn

2  
 

Basic Theorbo

2  
 

Blank Mentor Manual

500  
 

Lute of Ages

2  
 

Misty Mountain Harp

2  
 

Simple Pibgorn

60  
 

Student's Fiddle

2