Maudhúl Târ
Jump to navigation
Jump to search
"I like this land. It reminds me of the twilit wilds, far away in the North, where my heart remains." - Calenglad
Location Stub
This article or section is marked for missing location information.
Please visit Create new location and help expand knowledge about this wondrous place.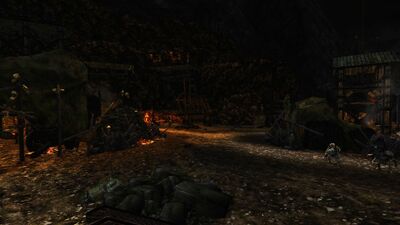 Location
Maudhúl Târ (Black Speech for High Camp) is a point of interest within Udûn in the Plateau of Gorgoroth. [44.1S, 8.7E]
It is an Orc encampment in the south-east of Udûn, off the east road from Anglach, north of the Isenmouthe.
Deeds
The following deeds can be advanced by visiting this location:
Creatures
The following creatures are found within this area:
Gallery
Views of Maudhúl Târ.

One of Ugrukhôr's Enforcers protects siege weaponry in Maudhúl Târ.