Master of Nature's Fury
Jump to navigation
Jump to search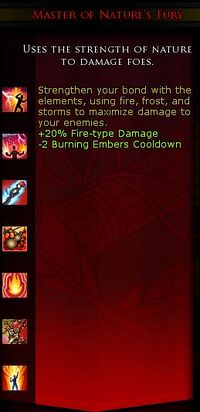 Master of Nature's Fury (Red line) is a Lore-master Trait Tree. The other two trait trees of this class are Keeper of Animals and The Ancient Master.
Master of Nature's Fury
Uses the strength of nature to damage foes.
A build focused on dealing significant burst damage from a distance. Skills interact to maximize damage to one or multiple targets.
+20% Fire-type Damage
+20% Chance for

Lightning Strike

to strike twice.
Your feline companions have increased attack damage and slightly increased Morale and Power.
These skills are acquired by spending trait points in the Master of Nature's Fury (red) trait tree.