Magh Hátur
Jump to navigation
Jump to search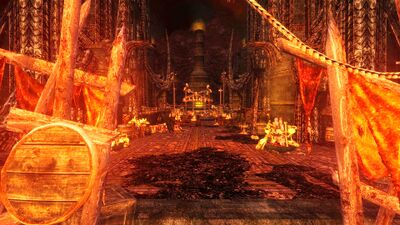 Location
Magh Hátur is a landmark within Talath Úrui on the Plateau of Gorgoroth. [58.9S, 16.4E]
This is one of the five Orcish outposts along the road in Talath Úrui, and is next to the arena of Thorzhaf.
A goblin stands watch outside, but will cower and beg "Hoi, Don't hurt me!" to any adventurer entering. Another goblin inside, Párgrub, has started a scrap-mongering business. Párgrub does not trade with outsiders, but has a scheme involving the nearby arena.
The Mordor Orcs and Uruks inside are

 Unaware and can be fooled by a

 Simple Disguise of Orc Armour, but the Ghâsh-hai Orcs will not be fooled.
Deeds
The following deeds can be advanced by visiting this location:
Quests
Starting:
Involving:
NPCs
Creatures
The following creatures are found within this area:
Gallery