King Rioc
Jump to navigation
Jump to search
| | |
| --- | --- |
| | King Rioc |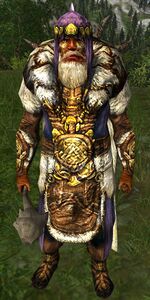 Description
King Rioc is the leader of the Men of the Mountains who swore an oath of fealty to Isildur at the end of the Second Age. When they broke their vows, Isildur cursed them to never find rest until their oath was fulfilled. Thus they have lingered, becoming known as the Dead Men of Dunharrow, occupying the Paths of the Dead. Rioc has become the King of the Dead. In life, Rioc had a daughter, Bravantel.
Rioc is first encountered during the Session Play: At the Stone of Erech.
He is later encountered during another Session Play, during Volume IV, Book 1: Instance: Those Who Are Dead
At the Camp of the Grey Host, Aragorn later lifts the curse after the Dead have helped in the retaking of Pelargir.
Quest Involvement
Gallery