Epic Battle: The Deeping-coomb
Jump to navigation
Jump to search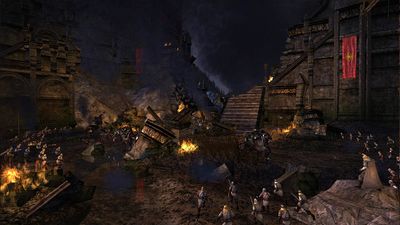 The Deeping-coomb is an Epic Battle for Helm's Deep. It can be run Solo or Duo by characters Level 10 and higher. This is the third battle you must complete in Solo or Duo mode before moving on.
Lore
The Deeping-coomb is the name of the valley in the White Mountains within which Helm's Deep is located, with a river known as the Deeping-stream flowing through it from the Glittering Caves. Within the context of the Epic Battle it is the area enclosed by the White Mountains and the Deeping Wall, where the Battle of the Hornburg continued after the wall was overrun and destroyed by Saruman's forces on March 3 TA.[1][2] The word coomb, meaning 'deep valley', comes from the Old English word cumb, which in term comes from the Welsh word cwm.[3][4]
Quests
All quests, including the main objective, can only be completed once per day.
Walkthrough & Notes
Walkthrough
First Assault
The battle will begin with constant waves of enemies attacking either the left, the Hornburg side, or the right, the Glittering Cave side. The lack of siege weapons may discourage Engineers, but Rank 3 Engineers may take advantage of the crated materials to build some. They can use Barricades to slow the enemy's advance while firing a catapult or ballista. The banners will require your attention as they do not heal as Soldiers do. Typically, the Sappers will focus on one or two banners at a time. A Rank 3 Officer can have Commanders prioritize Sappers to make them easier to handle.
Second Assault
The last attack will be on the opposite side from when you began. If you have siege weapons set up, aim them accordingly. Overall, there's nothing terribly difficult about the battle itself other than the side objectives. For this, a partner is highly recommended.
Notes
Prior to the 12.02 patch, the Barricades nearby the crates could be dismantled without despawning for an infinite supply of barricades.
Proper placement of barricades can significantly aid in reducing overall damage taken to the soldiers. Likewise, being able to move them will also help utilize them effectively in all parts of the fight.
Quest Text
Background
Saruman's sorcery destroyed the Deeping Wall and has driven the disorganized, retreating Rohirrim into the Deeping-coomb.
Objective
Merit Rating
This quest starts with Full Rating Merit.
Gallery
References