City Stables of Minas Tirith
Jump to navigation
Jump to search
This page is about pre-battle location. For the after-battle version, see City Stables of Minas Tirith (After-battle). For the Midsummer version , see City Stables Interior.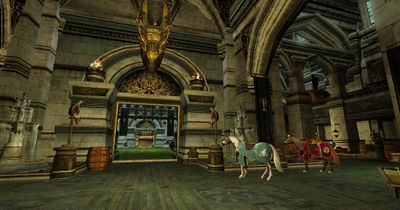 Description
The City Stables of Minas Tirith is an interior location in Minas Tirith in Old Anórien. [65.6S, 17.0W]
The few riders housed by the White City rest their steeds in these large stables just across from the Great Gate in the Workers' Tier. The stables are also known as Rochmar Oston.
NPCs
Quests
Involving
Starting
Deeds