City Stables of Minas Tirith
Jump to navigation
Jump to search
This page is about pre-battle location. For the after-battle version, see City Stables of Minas Tirith (After-battle). For the Midsummer veresion , see City Stables Interior.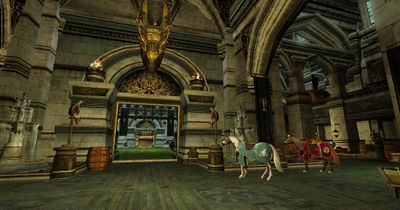 Description
The City Stables of Minas Tirith is an interior location in Minas Tirith in Old Anórien. [65.6S, 17.0W]
The few riders housed by the White City rest their steeds in these large stables just across from the Great Gate in the Workers' Tier.
NPCs
Quests
Involving
Starting