Boromir
Jump to navigation
Jump to search
Description
Boromir, the Captain-General of Gondor, is the eldest son of Denethor II, the Steward of Gondor and brother to Faramir. He was one of the Company of the Ring, though his mind grew set on claiming the Ring for his own purposes. He lived through III 2978 to 26 February III 3019, slain by Orcs while defending Merry and Pippin.
A voice came to him in a dream, speaking of the return of Isildur's Bane, and he took upon himself a great journey from Minas Tirith, far to the south, to Imladris, the hidden valley of Rivendell, home to Elrond Half-elven, one of the chief of the Wise. None could deny his bravery, for his trek was a perilous one, riding on the wings of the storm of Mordor.
In Rivendell, Boromir learned that Isildur's Bane was actually the One Ring of Sauron, which Isildur had cut from the finger of the Dark Lord and which was presumed lost. His pride, his concern for his people, and the dark influence of the Ring itself sparked within him envy and a desire to claim the Ring. He was chosen, alongside Aragorn the Ranger, to represent Men among the Company of the Ring. He was slain by Orcs in the woods at the foot of Amon Hen. — lorebook
| | |
| --- | --- |
| | Boromir |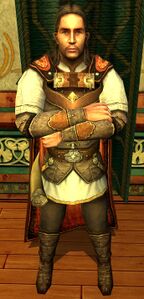 Boromir (Rivendell)
Boromir is found within the Guest Rooms in the south of Rivendell, in the inner chamber with Aragorn.
Quest Involvement
Quotes
"Oft my thoughts return to the east, to my brother and father and the safety of Gondor."
"Gondor alone stands between the Enemy and victory."
"Dusty roads have I travelled, and for what? To wait? I have grown tired of waiting!"
"In Gondor, it is said that the might of Elrond is in wisdom, not weapons."
"There is war in the east, yet we sit idle with old maps and drawings..."
"'Deeds of strength and valour will be needed in the days to come."
Boromir (Lothlórien)
| | |
| --- | --- |
| | Boromir |
Later Boromir is found in Lothlórien, somewhere within Cirin-en-Galadh.
Much later in the Epic story-line, Boromir appears in a dream, in a quest instance that takes place at the banks of Anduin, in the Gap of Rohan.
Quest Involvement
Boromir (The Sundering of Osgiliath)
| | |
| --- | --- |
| | Boromir |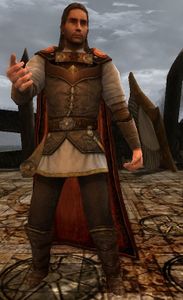 Boromir also appears in the Causeway Forts during the Sundering of Osgiliath as a scenery NPC.