Zabadgathol
Jump to navigation
Jump to search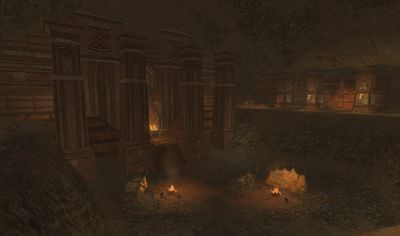 Description
Zabadgathol is the Orc name given to a two-level, fortified, dead-end cavern used by Mazog and his loyal orc followers.
It is known the Great Throne Room of Durin -- called Rushdurinul by the Dwarves,
Visually, despite being in Nud-melek, the entire area has the same rusted red coloration and architectural style as seen throughout the Redhorn Lodes. This same appearance is shared with Sigin-tharâkh which is just to the east and is the only means of reaching Zabadgathol.
There are two entrances into Zabadgathol, one accessing each level of this fortified cavern, but both entrances are close together. Coming from the Second Hall take the long, eastern bridge

[9.7S, 101.4W]

(closest to Glúmur) which crosses a lava-filled chasm into Sigin-tharâkh. Turn right (west) and pass over a short bridge to confront some Durab and Pulpum orcs on a terrace directly ahead. Taking the stairs on the right side of the terrace downward

[9.8S, 101.6W]

, and turning left at the bottom, will lead to the hallway into the main level of the cavern. Alternately, taking the passage at the back left of the terrace

[10.0S, 101.7W]

, turning right and going up some stairs will provide entry to the upper level of the cavern. There are stairs at the back of the cavern to allow transfer between the two levels of Zabadgathol.
Location
Zabadgathol

[9.6S, 102.4W]

, Mazog's fortress, is located in Nud-melek.
Deeds
The following deeds can be advanced by visiting this location:
Quest Involvement
Related quests that start or are found in this area include:
Related quests that involve this area:
Mobs
The following creatures are found within these borders: