The Quiet Knife
Jump to navigation
Jump to search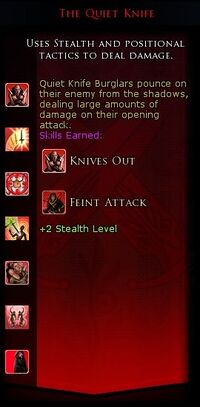 The Quiet Knife (Red line) is a Burglar Trait Tree. The other two trait trees of this class are The Gambler and the Mischief-maker.
The Quiet Knife
Uses Stealth and positional tactics to deal damage.
Quiet Knife Burglars pounce on their enemy from the shadows, dealing large amounts of damage on their opening attack.
Skills Earned:
+2 Stealth Level
These skills are acquired by spending trait points in the Quiet Knife (red) trait tree. You can only obtain the Set skills if you specialize in this tree.