The Martial Champion
Jump to navigation
Jump to search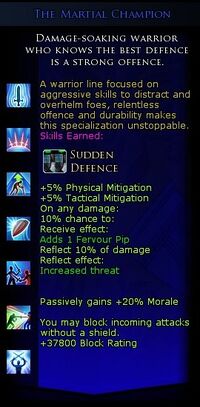 The Martial Champion (Blue line) is a Champion Trait Tree. The other two trait trees of this class are The Berserker and the Deadly Storm.
The Martial Champion
Damage-soaking Tank who prefers offence over defence.
A warrior line, forgoing the shield for better weapons. Managing Fervour, health, and power makes this Tank unstoppable.
Skills Earned:
On any damage:
10% chance to:
Receive effect:
Adds 1 Fervour Pip
Reflect 10% of damage
Reflect effect:
Increased threat
(--> this effect)
Passively gains +20% Morale
You may block with a two-handed weapon.

+[400,000 at Level 140] Block Rating
These skills are acquired by spending trait points in the Martial Champion (blue) trait tree. You can only obtain the Set skills if you specialize in this tree.