The Lord of the Rings Online: Before the Shadow
Jump to navigation
Jump to search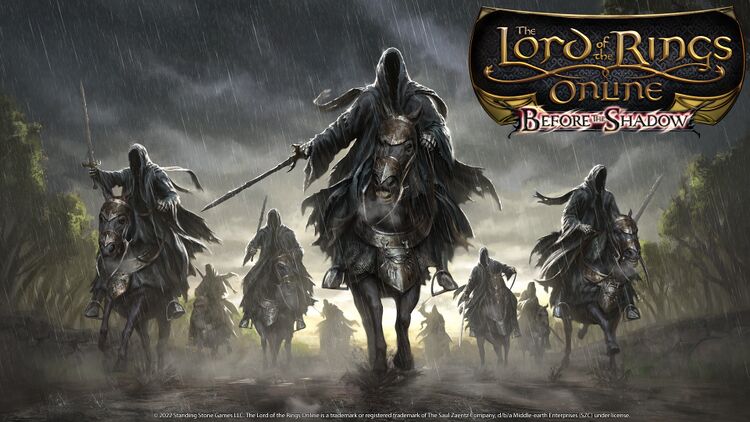 The Tenth Expansion to The Lord of the Rings Online MMO: Before the Shadow
Standing Stone Games (SSG) announced the release of the Before the Shadow Scheduled to be released at 15 November 2022
Before the Shadow will send players into two new regions, Swanfleet and Cardolan, as Boromir makes his way north to Rivendell ahead of the meeting of what will eventually become the Fellowship of the Ring while the Nazgûl search for "Baggins" in the peaceful land of the Shire. Players will discover the threat rising from Mordor and Saruman's Uruks as they explore the far history of Middle-earth!
Before the Shadow features questing from levels 1 to 32 in addition to for new characters. Higher level characters will see a new six-person Instance, in addition to a new Skirmish, and a Delving difficulty system that will offer new rewards and challenges!
Players who are VIP and are logged into LOTRO.com with their game account are offered a 10% discount on any of the three editions of Before the Shadow.
•One per account. The following items will be delivered upon launch of Before the Shadow on November 8th, 2022 based on the edition you have purchased.
••Once per account.
•••The following item will be delivered to every character on your account with Before the Shadow release.
Before the Shadow Teaser Trailer - The Lord of the Rings Online
Key Features
New Regions & New Early Leveling Experience
Explore two new regions with a new leveling experience that can be played between levels 1 and 32. Help Mossward recover from gruesome Uruk attacks, defeat Orcs in Caras Gelebren, and reclaim the Hall of the Swift River. Reunite with Boromir, Captain of Gondor, make your way to The Shire and discover the meaning behind the ' Grey Fear'.
New Skirmish and 6-player Instance
The Before the Shadow expansion comes with a new skirmish and 6-player instance that can be played at any level between 20 and 140.
New Delving System
Test your skills with the new delving system! Higher level characters can increase the difficulty of new missions included in the Before the Shadow expansion to earn additional difficulty tiers and rewards.
New Themed Missions Wrapper
Earn rewards by completing daily and weekly rotating missions.
Go Further with Expedition Supplies
Get immediate access to Expedition supplies to enhance your journey! The Collector's Edition includes 5 Reputation Acceleration Tomes, Virtue XP Accelerator, 5 100% XP Accelerators, and 5 Rare Crafting Components. The Ultimate Fan Bundle includes 5 Reputation Acceleration Tomes, 5 Virtue XP Accelerators, 5 100% XP Accelerators, 5 Rare Crafting Components, a Large Healer's Carry-all, Flowing Silver Stone of the Tortoise, Flowing Silver Stone, and 15,000 Virtue XP. Expedition Supplies are limited to one per account.
Upgrade Your Experience with the Ultimate Fan Bundle
Get exciting exclusive perks in the Ultimate Fan Bundle, including: 10 Extra Shared Storage Slots, Large Healer's Carry-all, Housing Teleporter, Armour of Flowing Silver, Elven Stars Weapon Aura, Flowing Silver Stone of the Tortoise, Flowing Silver Stone, and the new Elk of Flowing Silver.
Gallery
External links