Stazgnâkh
Jump to navigation
Jump to search
"I like this land. It reminds me of the twilit wilds, far away in the North, where my heart remains." - Calenglad
Location Stub
This article or section is marked for missing location information.
Please visit Create new location and help expand knowledge about this wondrous place.
Stazgnâkh is an area within the Redhorn Lodes in Moria in the central section.
Stazgnâkh is a maze of gullies connected by ore cart tracks running overhead and overrun by the competing Orc tribes of Moria and the White Hand. The Orc-watch is to the west, the Grand Stair to the north, the Grodbog Hive to the south, and tunnels leading to Nud-melek and the Foundations of Stone to the east.
Settlements
The following settlements are found within this area:
Landmarks
These landmarks are located within Stazgnâkh:
Quests
See "starting quests" and the landmarks for more quests

Starting
Involving
Mobs
The following creatures are found within this area:
Maps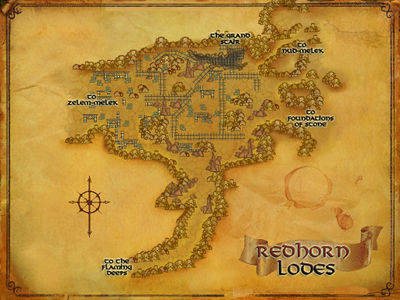 Lore
Between the urban quarter to the west and every other corner of the region, the Redhorn Lodes is a labyrinth of raised mine-cart tracks, timber scaffolding, and mounds of untapped rock, all of it dusted with silt and grit from centuries of disuse. Rails that once led to ore-houses and workshops now end in twisted and broken frays. It seems the Dwarves who fled the mines sabotaged their works to prevent Goblins and claim-stealers from using the old infrastructure for themselves.