Lang Rhuven
Jump to navigation
Jump to search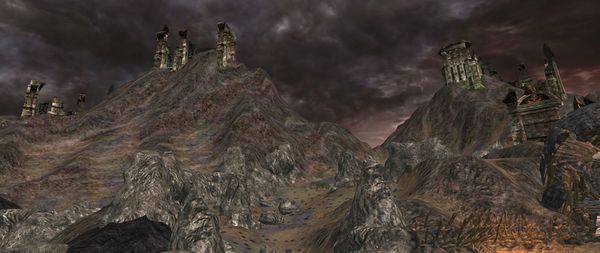 Location
Lang Rhuven is a landmark within Dagorlad in the Wastes.

[33.2S, 0.5W]

An entrance to Lang Rhuven from the battle plain near Dol Acharn is at

[33.2S, 0.5W]
'The gap in the hills west of a hidden Ranger outpost is known as Lang Rhuven. The entire pass is now blocaded and controlled by the Easterlings. Many Khundolar gather there and continue to come through the pass to the west that eventually heads toward Rhûn.
Deeds
The following deeds can be advanced by visiting this location:
Quests
Ranger Camp
Maendal
Mincham
Laeglaw
Artamir or Faramir, son of Ondoher
Anborn
Faramir, son of Ondoher
Echil
Mílgamel quests
Candúr
These quests unlocks in sets if 3. Turning in one quest from a set unlocks the next set. Completing this quest chain will unlock the final quests needed to unlock the fellowship crafting instances. The final quests are listed under The Slag-hills.
Note: If you only want to unlock the crafting instances, you simply need the sequence The Escape -> The War-party -> The War-leaders, and can ignore the other Lang Rhuven quests.
Gallery