Harâzgund
Jump to navigation
Jump to search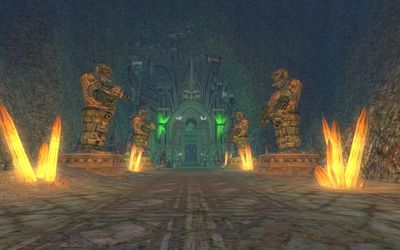 Location
Harâzgund is a landmark within The Water-works in Moria. [17.6S, 116.9W]
Beyond The Drowned Deep and deepest within The Water-works lies Harâzgund, the gate to The Vile Maw. The dwarf Kaldi has set camp here and keeps warriors company before their bravery in terror-struck instances like The Vile Maw and Filikul.
Deeds
The following deeds can be obtained by visiting this location:
Quests
Starting:
Involving:
NPCs
Lore
The gateway of Harâzgund leads to the source of one of the greatest ducts in all of Khazad-dûm. It once supplied water to nearly half of all the dwarves who lived beneath these mountains, but it was broken by some unknown calamity during the long dark years after the fall of Durin. Now the water lies here unmoving, flooding the deeps in great stagnant pools.