Golasgil
Jump to navigation
Jump to search
Description
Lord Golasgil is the Lord of Anfalas, the region to the west of Western Gondor and Dol Amroth. When the beacons where lit, he and most of the men under his command came to Minas Tirith to aid in the defence of the White City.
Golasgil (Minas Tirith)
| | |
| --- | --- |
| | Golasgil |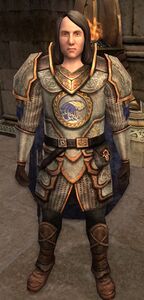 Golasgil can be found in the Soldiers' Tier of Minas Tirith.
Quest Involvement
Golasgil of Anfalas
| | |
| --- | --- |
| | Golasgil of Anfalas |
Golasgil of Anfalas joins the defence of Minas Tirith in the Epic Battles Defence of Minas Tirith and Hammer of the Underworld, along with his axemen.
Quotes
"Our doom comes, Mithrandir! You must know this!"
"Are we even certain it can be destroyed?"