Fanuidhol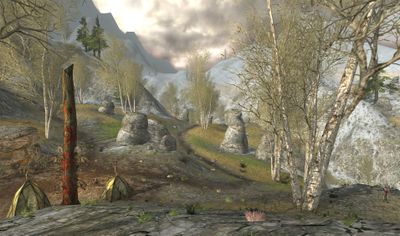 Fanuidhol (Sindarin for Cloudyhead, Bundushathûr in Khuzdul) is an area within Lothlórien, north of Talan Fanuidhol.
It is the eastern of the three Mountains of Moria. On its eastern slopes there are various camps where Orc-smiths, scouts, and other orcs dwell.
Landmarks
These landmarks are located within Fanuidhol:
Quests
Involving:
Mobs
The following creatures are found within this area:
Lore
Fanuidhol is one of the three highest peaks of the Misty Mountains. It was once said to be great, but now it is barren, with Orcs and Goblins prowling around in camps they have established, threatening and planning an assault on Lothlórien which lies just at the base of the mountain.