Duilin
Jump to navigation
Jump to search
| | |
| --- | --- |
| | Duilin |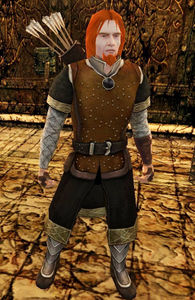 Description
Duilin is the son of Duinhir, the Lord of the Blackroot Vale. He and his brother Derufin came to Minas Tirith when the beacons were lit, and now spend their time hunting in the forests of South Ithilien.
Later, both brothers can be found in the Mûmak and Keep tavern, on the Soldiers' Tier of Minas Tirith, and take part in the defence of the White City.
Quest Involvement
Quotes
"We are from the Blackroot Vale, far west of here, and we marched to Minas Tirith with our father when the beacons were lit. And then... nothing. Sitting in idleness while excitement happens elsewhere has never been to either of our tastes, so we escaped from the White City and crossed the river in secret. Now we seek adventure!"