Calder Cob
Jump to navigation
Jump to search
| | |
| --- | --- |
| | Calder Cob |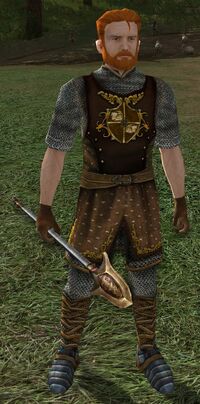 Description
Calder Cob is a guard just south of Archet, stationed at the gate of Dirk Mudbrick's farm. He is the most trusted soldier of Captain Brackenbrook, who believes him to have been loyal to him and the village since he was a boy, and most likely had a hand in influencing the Captain's decision to exile his son Jon Brackenbrook from Archet three years ago. But in reality, Calder's true loyalties lie with the Blackwold brigands, and he has nothing but bad things in mind for Archet.
Calder tries to have you killed by the Blackwold Wolf-master at Bronwe's Folly, but underestimates your strength and your will to fight, and comforts himself with the belief that no one will believe you. In the end, Calder Cob proves to be a true villain by leading the assault upon Archet and murdering Brackenbrook, but thanks to the combined wrath of you, Atli Spider-bane, and Jon Brackenbrook, he ultimately fails in his goal to bring about Archet's fall.
In the final quest of the introduction quests for hobbit and man, in the tragic The Assault on Archet, Calder Cob is your final enemy. Defeating him will bring about the defeat of the Blackwolds with him.
Calder Cob is also unofficially the official mascot of the Arkenstone server. There was a petition to rename the server "Calderstone" but it was soon shot down by the developers due to Cob's status as a "traitor".
Quest Involvement
Quotes
"No one will ever believe you, <class>! You're a fool for thinking you can stop what's coming."
Advanced Stats
Alignment: ( Evil )
Combat Effectiveness:
Finesse:

Feeble

F.M. Immune:

False

Stun/Mez Imm.:

False

Root Immune:

False

Resistances:
Cry:

Feeble

Song:

Feeble

Tactical:

Feeble

Physical:

Feeble
Mitigation:
Common:

Feeble

AncientDwarf:

Feeble

Fire:

Feeble

Beleriand:

Feeble

Light:

Feeble

Westernesse:

Feeble

Shadow:

Feeble

Frost:

Feeble

Lightning:

Feeble
Level of Lore-master reporting: ( 20 )