Boss from the Vaults: Thrâng
Jump to navigation
Jump to search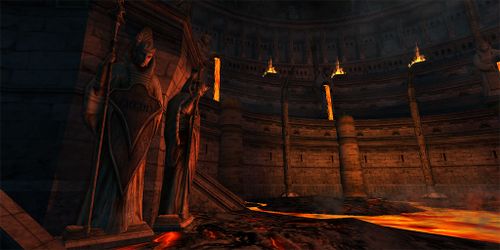 "Deep within the Rift of Nûrz Ghâshu, Thrâng, the chieftain of the Ghâshfra, is ready to take on all comers who challenge his might."
Description
Boss from the Vaults: Thrâng, also known simply as Thrang, is a Seasonal Instance accessible during the Summer Festival. To complete this instance, defeat Thrâng in the arena of Norbar and successfully defend yourselves against his mighty underlings.
This instance was inspired by the boss of the same name in the Angmar raid Rift of Nûrz Ghâshu. It is similar to the original fight in many ways but also differs significantly. There is only one tier of difficulty, and the Thrâng's shield mechanic returns. However, Eimyr the fire giant does not appear, a Ghâshfra Defiler must be defeated before Thrâng enters the fray, and the waves of adds spawn endlessly. You will receive skirmish marks depending on the level of the instance as well as Summer Festival Tokens and scaled jewellery from his chest for completing this instance.
The instance takes place in the Rift of Nûrz Ghâshu area of Angmar and is accessible through the Instance Finder.
Quests
Deeds
Instance Overview
pending
Walkthrough
pending
Mobs
Click [+] to expand a list of mobs found within the instance.
Category Boss from the Vaults: Thrâng Instance Mobs not found
Loot
Loot for this instance comes from daily quests awarding Summer Festival Tokens and Motes of Enchantment at 130. There is a chest at the end that awards 1 Thrang's Vault Token, 0-4 Summer Festival Tokens and a chance for a cosmetic two-handed sword, a scaled incomparable ring or bracelet or an epic pocket. The chest locks reset daily at 3 A.M. /servertime.
Drops



Bracelets














Rings


Pockets



Map