Arvedui
Jump to navigation
Jump to search
Arvedui (Sindarin for Last-king), was known as the Gaunt King and Laiha-herra (Lossoth for the Skinny One) in life.
| | |
| --- | --- |
| | Arvedui |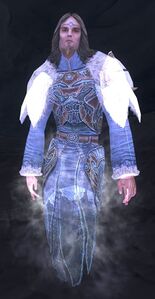 Arvedui (Forochel)
Arvedui, or rather the shade of him, is first found at Hylje-leiri, in Forochel.
There he is guarding (or haunting?) the wrecked ship that brought him and his followers from Fornost when they escaped the wrath of the Witch-king. But instead that wrath brought forth a terrible storm and most of them perished.

Quest Involvement
Epic Volume I, Book 13
Agoroth, the Narrowdelve quests
Quotes
"I now know some small peace...my redemption will come with time."
"I bear a great grief upon me."
Arvedui (Minas Tirith)
| | |
| --- | --- |
| | Arvedui |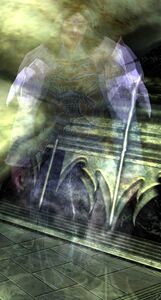 Arvedui later appears at the Hall of the King, in Minas Tirith.

Quest Involvement