Soundtracks
Jump to navigation
Jump to search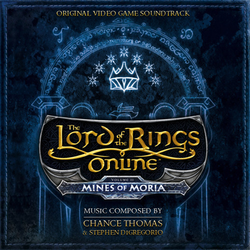 The music of The Lord of the Rings Online exists thanks to a long string of composers, all using a variety of methods including synthesized music, soloists, small ensembles, orchestras, and choirs. While much of the game's music remains unreleased in an official soundtrack, the game has seen many soundtrack albums in special editions of the game, downloads, and separate commercial releases. Many tracks can be found on LotRO's official Youtube Channel
Overview
Early in development, Chance Thomas led composing efforts, while Stephen DiGregorio composed most of the rest of the music. There were also contributions from Brad Spear and Geoff Scott in the initial game release. This music from the original game was largely released in the first three soundtracks, the first in 2007 with special editions of the Shadows of Angmar, the second in 2008 for free with the Turbine Download Manager, and the third included with pre-orders of the Mines of Moria expansion. From initial release onwards Stephen DiGregorio was the main composer, with Chance Thomas stepping in to compose for the Mines of Moria and Riders of Rohan expansions which were each released as soundtracks (with Stephen DiGregorio's work taking up half of the Moria album). The Moria soundtrack was included with special editions of the expansion in 2008, while the Rohan soundtrack was released independently for download and on CD in 2012. Stephen DiGregorio's final soundtrack release was the soundtrack for the Helm's Deep expansion in 2013. After Helm's Deep there were no released soundtracks until Mordor in 2017.
The music after Helm's Deep was composed by Stephen DiGregorio and Egan Budd for Western and Central Gondor, Matt Harwood for Eastern Gondor through North Ithilien and including some landscape tracks in the Wastes as well as the Battle of the Black Gate, and Bill Champagne for most of the Wastes and the new music for the Belfalas housing area. In early 2017 Chance Thomas released a 10th Anniversary Soundtrack containing a collection of his work throughout his time composing for Lotro up until that point, including one previously unreleased track. He then returned to compose the music for the Mordor expansion, released as a soundtrack later in 2017.
Music since Mordor has been composed again by Bill Champagne, to include Update 22: Legacy of the Necromancer - Soundtrack in 2018, Update 23: Where Dragons Dwell Official Game Soundtrack, Update 24: Vales of Anduin Soundtrack, and Minas Morgul Official Soundtrack in 2019. Champagne continued his work in 2020 with the releases of Update 26: Mists of Wilderland Official Soundtrack and Update 27: The Great Wedding Soundtrack.
In 2021 the Update 28: War of Three Peaks Official Soundtrack was released in January for the War of Three Peaks Update from the prior October. May 2021 brought the Update 29: The Wildwood of Bree-land Soundtrack from the The Wildwood Update. August 2021 brought the updated Update 20: Battle of the Black Gate Soundtrack with the release of Mordor on the Anor Legendary Server. October 2021 the Update 30: Blood of Azog Official Soundtrack was released and November brought the release of Update 31: Fate of Gundabad Official Soundtrack following the launch of Fate of Gundabad on November 10, 2021.
List of Soundtracks