The Watcher of Resolve
Jump to navigation
Jump to search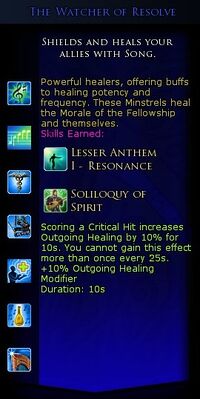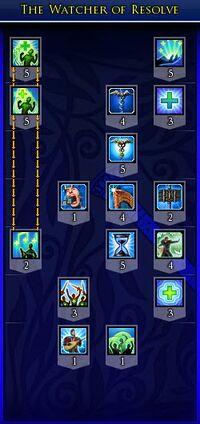 The Watcher of Resolve (Blue line) is a Minstrel Trait Tree. The other two trait trees of this class are The Warrior-Skald and The Protector of Song.
The Watcher of Resolve
Shields and heals your allies with Song.
Powerful healers, offering buffs to healing potency and frequency. These Minstrels heal the Morale of the Fellowship and themselves.
Skills Earned:
Scoring a Critical Hit increases Outgoing Healing by 10% for 10s.
You cannot gain this effect more than once every 25s.
+10% Outgoing Healing Modifier
Duration: 10s
These skills are acquired by spending trait points in The Watcher of Resolve (blue) trait tree. You can only obtain the Set skills if you specialize in this tree.