The High Sorcerer of Harad
From Lotro-Wiki.com
Description
The High Sorcerer of Harad is one of the Nine Nazgûl, recipient of Mêbat (Mirth-eater), one of the nine Rings of Power that were forged for Men. Once a king of a Southron people, his name is lost in time, and he is now known by the most common of his many nicknames.
He is encountered several times.
The High Sorcerer of Harad (Second Age)
| | |
| --- | --- |
| | The High Sorcerer of Harad |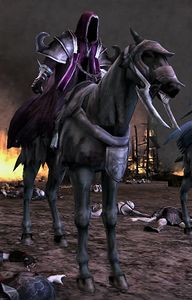 The High Sorcerer of Harad is first encountered by High Elf characters in the year 3434 fighting against the host of the Last Alliance during the siege on the battle plain at Dagorlad at the end of the Second Age.
Quest Involvement
The High Sorcerer of Harad (Throne of Dread Terror)
These stats are for Tier 1,
click
here
for Tier 2.
Advanced Stats
Alignment: ( Evil )

Combat Effectiveness:
Finesse:

Poor

F.M. Immune:

True

Stun/Mez Imm.:

True

Root Immune:

True

Resistances:
Cry:

Good

Song:

Good

Tactical:

Good

Physical:

Good
Mitigation:
Common:

Incredible

AncientDwarf:

Remarkable

Fire:

Remarkable

Beleriand:

Remarkable

Light:

Remarkable

Westernesse:

Remarkable

Shadow:

Remarkable

Frost:

Remarkable

Lightning:

Remarkable
Level of Lore-master reporting: ( 105 )  
The High-Sorcerer of Harad is an Unseen who can be found within the 12-man raid instance Throne of the Dread Terror.
He is one of six boss encounters in the raid. In order to reach him, the first four boss encounters must be defeated (The Unbroken One, Rakothas, Vadokhar and the three Mûmakîl). A large number of 'trash' mobs must also be cleared out.