The Gloomwaters
Jump to navigation
Jump to search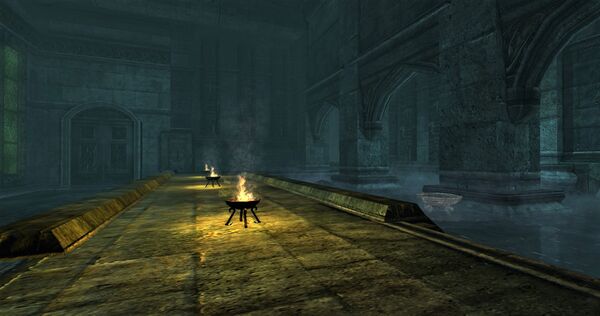 The Gloomwaters is an interior within Minas Morgul, in the Morgul Vale. [67.2S, 2.4E]
The baths of Minas Ithil were once a place to rest and relax, and the people who lived here scrubbed away the dirt and the grime of their daily lives, sinking into waters of contentment. Now the baths are empty of all good folk, haunted by shades of evil.
Many inhabitants of the Circle of Mirth in Minas Ithil were drowned in the baths when Sauron's forces conquered the city for the second time, and many of them now haunt the Circle of Despair in Minas Morgul.
Quests
Deeds
These deeds can be advanced by visiting The Gloomwaters.
Creatures
Settlements and Landmarks of Minas Morgul

Settlements:
Barad Angarth, the Gate-wardens' Keep • Barad Orhant, the Tower of the Treegarth • Barad Elenath, the Star-gazers' Spire • Barad Arthir, the Lofty Watch-fort
Landmarks:
Circle of Wrath: • Zhar Dushgoi • Zhar Skator / Circle of Sorrow: • Song-house of Lindalírë / Circle of Madness: Ghashan-kútot, the Halls of Black Lore • Lírband / Circle of Despair: • The Garth of Angáth / Circle of Death: Celeband • Meremband • Thoremband • Uialrond, the Dome of Evening
Interiors:
Circle of Sorrow: • Búrzangh, the Shrouded Forge • Dâr Grazadh, the Hall of Rot • Roz Dagalur, the Fiend-house / Circle of Despair: • The Gloomwaters / Circle of Death: Barad Cúron, the Tower of the Crescent Moon • Bâr Maenath • The Wracking-hall
Instances:
Quest: • Barad Angarth • Barad Orhant • Barad Elenath • Barad Arthir / World: • Gath Daeroval • The Harrowing of Morgul