The Gambler
Jump to navigation
Jump to search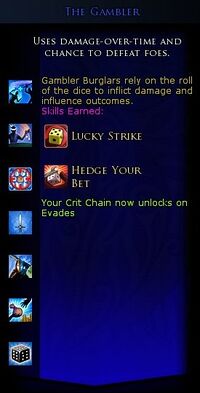 The Gambler (Blue line) is a Burglar Trait Tree. The other two trait trees of this class are The Quiet Knife and the Mischief-maker.
The Gambler
Uses damage-over-time and chance to defeat foes.
Gambler Burglars rely on the roll of the dice to inflict damage and influence outcomes.
Skills Earned:
Your Crit Chain now unlocks on Evades
+40% Stealth Movement Speed
These skills are acquired by spending trait points in the Gambler (blue) trait tree. You can only obtain the Set skills if you specialize in this tree.