The Claw
Jump to navigation
Jump to search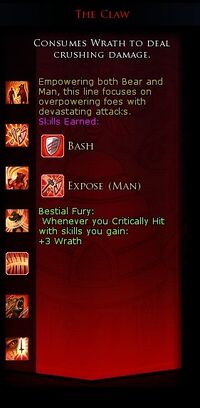 The Claw (Red line) is a Beorning Trait Tree. The other two trait trees of this class are The Hide and the Roar.
The Claw
Consumes Wrath to Deal Crushing Damage.
Empowering both Bear and Man, this line focuses on overpowering foes with devastating attacks.
Skills Earned:
Bestial Fury:

Whenever you Critically Hit with skills you gain:
+3 Wrath
These skills are acquired by spending trait points in the Claw (red) trait tree. You can only obtain the Set skills if you specialize in this tree.