Stóthkell
Jump to navigation
Jump to search
Stóthkell
| | |
| --- | --- |
| | Stóthkell |
Stóthkell is first found at the forges of the Heart of Fire, in Moria. The Heart of Fire lies in the Way of Smiths, which is accessible from the Silvertine Lodes and the Redhorn Lodes.
Quest Involvement
Vol. 2, Book 4:
Vol. 2, Book 5:
Vol. 2, Book 8:
Vol. 2, Book 9:
Stóthkell (Annâk-khurfu)
"Who was that you were looking for? ...oh, Strider, yes!" - Barliman Butterbur
NPC Stub
This article or section is marked for missing content.
Please Create new NPC or add any missing information.
Stóthkell later joins the expedition to reclaim Gundabad. He is found in the Keep of Annâk-khurfu in Elderslade.
| | |
| --- | --- |
| | Stóthkell |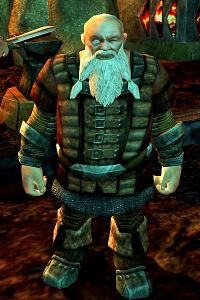 Quest Involvement
The Legacy Of Durin And The Trials Of The Dwarves: Chapter 3