Merethrond - Banquet Hall
Jump to navigation
Jump to search
This page is about Merethrond at Midsummer. For the feast-hall before the Battle of Pelennor Fields, see Merethrond. For the feast-hall after the battle, see Merethrond (After-battle).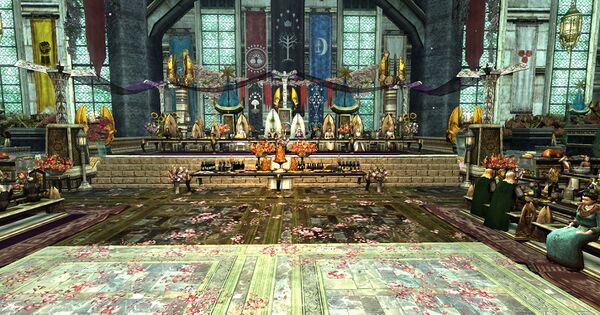 Description
Merethrond - Banquet Hall is the the royal feasting hall for Minas Tirith (Midsummer). [22.7N, 55.9W]
The wedding banquet for Aragorn and Arwen is being held here. Entry to the Midsummer feast-hall requires completion of Vol. V, Book 1, Chapter 7: A Wedding at Midsummer.
NPCs
For a full list, see Merethrond - Banquet Hall NPCs
Quests