Keeper of Animals
Jump to navigation
Jump to search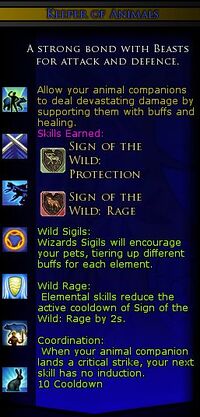 Keeper of Animals (Blue line) is a Lore-master Trait Tree. The other two trait trees of this class are Master of Nature's Fury and the Ancient Master.
Keeper Of Animals
A strong bond with Beasts for attack and defence.
Animal companions ensure their keeper's survival, using bonuses and pet-master interactions to help both thrive in battle.
Skills Earned:
Your companions have the following bonuses:

+5% Morale
+5% Power
+2% Attack Speed
+2% Outgoing Damage
+1% Critical Chance
+2% Block Chance
+2% Parry Chance
+2% Evade Chance
+1 Stealth
+1 Stealth Detection
Coordination:

When your animal companion lands a critical strike, your next skill has no induction.
This effect cannot trigger more than once every 10s.
These skills are acquired by spending trait points in the Keeper of Animals (blue) trait tree.
Set Bonus
Description
Source
 

Kindred Flame

Improves the damage buff from

Inner Flame

and lets it buff your pet too.
Set: 5+ total ranks
 

Peerless Wisdom

You have a greater chance of reflecting damage when using

Wisdom of the Council

.
+10% Wisdom of the Council Damage Negation Chance
Set: 10+ total ranks
 

Raven's Protection

The Raven now offers a Tactical Mitigation buff to you and your fellows.
Set: 15+ total ranks
 

Critical Coordination

When your Pet scores a Critical Hit, your next skill is guaranteed to Crit as well.
Set: 20+ total ranks
 

Fellowship Friend

When your Pet scores a Critical Hit, a unique buff will be bestowed from your pet unto your fellowship.
Set: 25+ total ranks
 

Bolstered Bond

Your companions have additional bonuses
Set: 30+ total ranks
 

Tutelage of the Brown Wizard

Your pets gain 3 levels
Your pets are dramatically strengthened through the lore of Radagast.
Set: 35+ total ranks
Trait
Description
Source
 

Sign of the Wild: Protection

Increases your pet's defences.
Trait: 0+ ranks
 

Sign of the Wild: Rage

Increases your pet's damage and attack speed.
Trait: 0+ ranks
 

Go for the Throat

Increases your pet's Critical rating.
Trait: 5+ ranks
 

Lesser Giant Eagle

Earns the skill:

Eagle-friend

.
Trait: 5+ ranks
 

Inner Flame

Earns the skill:

Inner Flame

.
Trait: 5+ ranks
 

Prepare for War

Increases Tactical damage dealt by both your pet and yourself.
Trait: 10+ ranks
 

Prepared Materials

You attack faster now that you are prepared for battle.
Trait: 10+ ranks
 

Hearty Diet

Boosts the max Morale of your pet and yourself.
Trait: 15+ ranks
 

Don't You Touch Him!

Protective of your pet, you gain a damage buff if your pet is hit by a Critical attack.
Trait: 15+ ranks
 

Catmint

Earns the skill:

Catmint

.
Trait: 15+ ranks
 

Loyalty

Your pet loves you. If you are hit by a Critical attack, your pet will sacrifice some Morale to heal you.
Trait: 20+ ranks
 

After-battle Treat

After a battle is finished, your pet receives positive reinforcement from you, it gains Morale and a damage buff.
Trait: 20+ ranks
 

Don't Interrupt Me

Enemies who interrupt your inductions pay dearly for their rudeness.
At base, you return and absorb 7% of damage.
Trait: 25+ ranks
 

Synchronized Movement

You and your pet execute attacks more quickly.
Trait: 25+ ranks
 

A Murder of Crows

Earns the skill:

A Murder of Crows

.
Enables you to summon a vast flock of crows to harass your enemies for a short time.
Trait: 30+ ranks
 

Feral

You are inspired by your pet companion, and take on a few of its fighting characteristics.
Trait: 30+ ranks