Item:Sturdy Steel Key
Jump to navigation
Jump to search
LOTRO Expansion, Patch or Update
This article needs to be updated with current information.
Please utilize both in-game sources and the official patch notes.

Reason: Update 23 changes the status of this item
"But the Mirror shows many things, and not all of them may come to pass." - Galadriel
Beta Material
This article contains information which is not yet in-game, but is available on the Bullroarer test server.

Sturdy Steel Key
Item Level: 1
Consumed On Use

 

 

"This item allows you to unlock a locked loot box."

 

Worth: 65  

 

LOTRO Store: 100  

 
Item Information
This item is used to open a

 Steel-bound Lootbox.
Sturdy Keys can be acquired in various ways:

Barter Information
Barterer: Marís (Treasure Field Base Camp)
The bartered for with Maris is Bind on Aquire.
Opening a Lootbox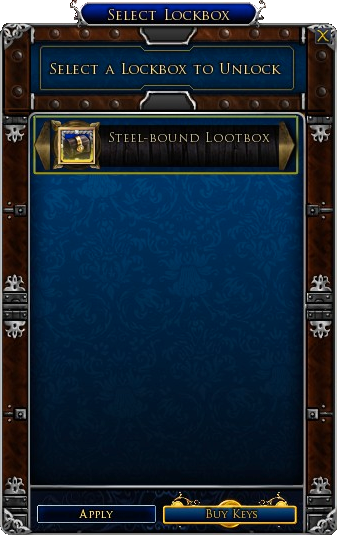 Right-click a Sturdy Key or a Lootbox and a dialogue window will be raised. Select which one you wish to open, also if having just one lootbox. Press "Apply" which will open yet another dialogue that asks you to verify your wish to unlock the lootbox, which will consume they key; press "yes" or "no".