Item:Inn League Keg
Jump to navigation
Jump to search

Inn League Keg
Decoration Category: Furniture

 

On Use:

Drinking this brandy may not be the safest thing you could do.

Duration: 10s
Applied on expiration:

You feel a bit woozy... more brandy will solve that!


Duration: 15s

 

 

"A Hobbit keg, full to the brim with triple strength brandy. Drink this at your own risk."

 
Quest Information
This item is a selectable reward for the quest [10] Bullroarer's Challenge -- Advanced.
Effect Information
Drinking from the keg applies the effect

 Party Time.
Gallery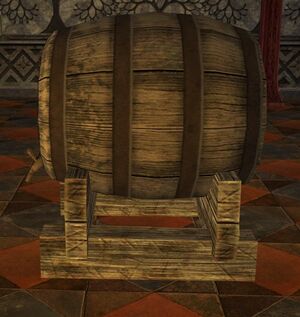 Drunken Destinations
--- Party Time "It's Party Time! You feel an irresistible urge to find a Party... somewhere."
--- Huh? Where's my Pants? --- "You seem to have misplaced your pants. This makes you sad."