Glimmerdeep
Jump to navigation
Jump to search
This page is about Glimmerdeep, the landmark. For Glimmerdeep, Resource instance, see Glimmerdeep (Resource Instance). For Glimmerdeep, the Solo, Duo, 3-man Dungeon, see Glimmerdeep (Instance).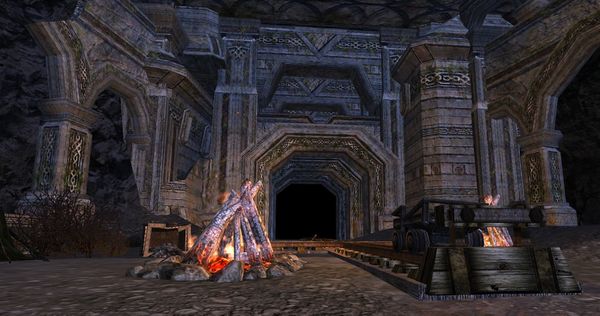 The Glimmerdeep, Aglâmbazar, is a landmark within Ered Mithrin, in Ered Mithrin and Withered Heath. [39.0N, 47.7W]
Deeds
These deeds can be advanced by visiting Glimmerdeep. (With exploration, defeating creatures, or completing tasks)
Quests
Starting:
Involving:
Creatures
These creatures are encountered within the landmark of Glimmerdeep:
Lore
The Glimmerdeep mines were once part of the Dwarf-kingdom of the Grey Mountains, Grárik, but were occupied by Dragon-kind after the dwarves were driven out. Smaug made his lair here for a time, as did his sister Etterfang before she fled, wounded, into the adjoining spider-tunnels under the mountains.
Gallery