Fosco Boffin
Jump to navigation
Jump to search
Description
Fosco Boffin is one of the seven children of Prisca Boffin and a first cousin, once removed, of Bingo Boffin. According to his mother, he is fond of rivers and wands to learn boating.
Fosco Boffin (Buckland)
While his cousin Bingo is visiting Buckland, Fosco is taking a nap near the Bucklebury Ferry.
| | |
| --- | --- |
| | Fosco Boffin |
Quest Involvement
Episodic Content
Harvest Festival
Fosco Boffin (Scary)
Later on, Fosco moves to Scary in the Greenfields, where he acts as a Grocer. He is concerned for the safety of his aunt, Prunella Boffin, with all the talk of goblins in the Northfarthing.
| | |
| --- | --- |
| | Fosco Boffin |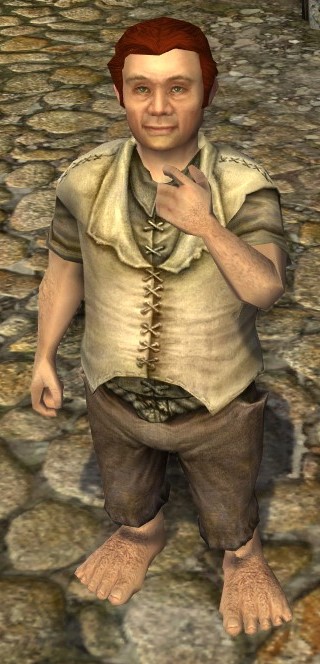 Quest Involvement
Sells
Item
Cost
 

Bag of Salt

1  12  
 

Bottle of Water

4  
 

Chicken Egg

24  
 

Coney

56  
 

Cut of Beef

1  12  
 

Drop of Honey

56  
 

Dry Rations

48  
 

Hard Rations

1  12  
 

Jar of Vegetable Oil

56  
 

Lamb Bone

1  12  
 

Lamb Kidney

1  12  
 

Lump of Butter

24  
 

Piece of Uncooked Bacon

56  
 

Pinch of Shire Seasonings

56  
 

Pork Shank

24  
 

Raw Pork Sausage

56  
 

Rich Rations

1  60  
 

Scoop of Lard

24  
 

Simple Rations

4  
 

Tasty Rations

2  20  
 

Uncooked Pork Chop

1  12