Determination (Warden Specialization)
Jump to navigation
Jump to search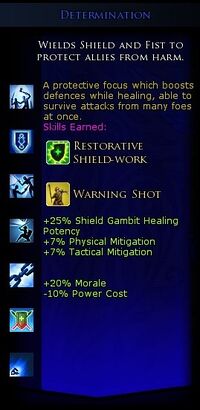 Determination (Blue line) is a Warden Trait Tree. The other two trait trees of this class are Recklessness and Assailment.
Determination
Wields Shield and Fist to protect allies from harm.
A tanking build which boosts defences while healing, able to survive attacks from many foes at once.
Skills Earned:
+25% Healing Potency
+5% Physical Mitigation
+5% Tactical Mitigation
Passively gain +20% Morale
Gambit Builders build a stacking Partial Block, Parry, and Evade buff - max of 6%
Individual Gambit Bonuses (10% Chance to Apply):
Shield: +Block Rating
These skills are acquired by spending trait points in the Determination (blue) trait tree. You can only obtain the Set skills if you specialize in this tree.
Stance
Active Skills
Category
Cooldown
Range
Source
Gambit Icon Cost
 

Warning Shot

Ranged + Debuff + Force Attack
10s
30m
Set:
Initial Skill
 

Shield Mastery

Buff
1s
self
Set:
 

Shield Mastery



 

Shield Tactics

Buff + Stun Immunity
1s
self
Set:
 

Shield Tactics



 

Defiant Challenge

AoE + Force Attack + Reflect
30s
10.2m
Trait:
 

Warden's Challenge

 

For the Free Peoples

Fellowship Buff
1m30s
fellows
Trait:
 

For the Free Peoples
Obtained by spending Trait Points in the Warden Determination Trait Tree.