Beorning Trainer (Caras Galadhon)
Jump to navigation
Jump to search
| | |
| --- | --- |
| | Beorning Trainer |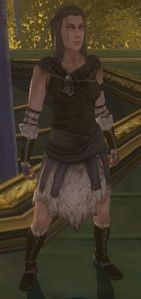 Description
The Beorning Trainer is a Beorning Trainer and Trader found on the flet Telain Galadhrim inside the city Caras Galadhon in Lothlórien.
Barters
Sells
Item
Cost
Books
 

A Hobbit's Holiday

189  60  
 

A Study of the Skin-changer

189  60  
 

Genealogy of the Beornings

189  60  
Deed Tomes
 

Class Deed Tome

- Beorning
2  
 

Deed Tome - Gondor Quests

2  
 

Deed Tome - Rohan Quests

2  

Note: All skills listed with the trainer are "auto-bestowed" when you reach the appropriate level. It is not necessary to visit the trainer to acquire these skills. See Beorning Skills for more info.