Assailment (Warden Specialization)
Jump to navigation
Jump to search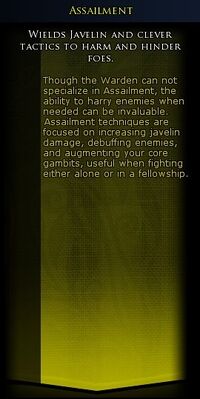 Description
Assailment (Yellow line) is a Warden Trait Tree. The other two trait trees of this class are Determination and Recklessness.
These skills are acquired by spending points in the Warden Assailment (Yellow) trait tree. The Set skills can only be obtained by specializing in the tree.
The following Set Bonuses are obtained by spending points in any tree.
Obtained by spending Trait Points in the Warden Assailment Trait Tree.