Tumun-ghâr
Jump to navigation
Jump to search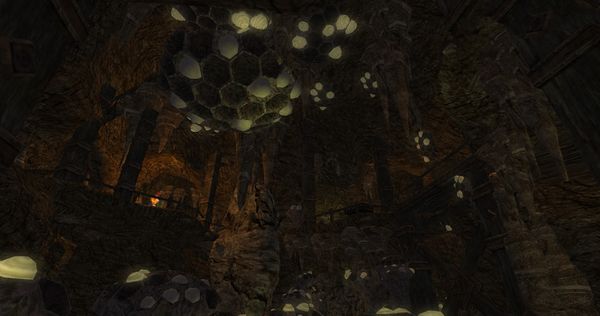 Location
Tumun-ghâr is located at Gharâf-fehem in the Redhorn Lodes. [13.1S, 105.7W]
Tumun-ghâr is a crafting instance with three quests which reward you with cash, Reputation, Experience points, Legendary Item Experience points, and Iron Garrison Resource Tokens. As of Update 17, this is no longer a public dungeon and is a solo only private instance instead. The instance contains approximately 20 nodes of Khazâd Skarn Deposit which can be harvested by a Supreme Prospector.
The three quests are repeatable Daily. The resource nodes are on a 3 day timer. When entering the zone you will receive a message telling you how long until the next instance reset and that is when the Khazâd Skarn Deposit nodes will re-spawn.
Location
Tumun-ghâr is located at Gharâf-fehem in the Redhorn Lodes. [13.1S, 105.7W]
Quest Involvement
Related quests that start or are found in this area include:
Related quests that involve this area:
Mobs
Each time the instance is created, it will be populated with either Cave-claw type mobs, Grodbog type mobs or Goblin (and bat) type mobs.
The following creatures are found within this instance:
Gallery