The Roar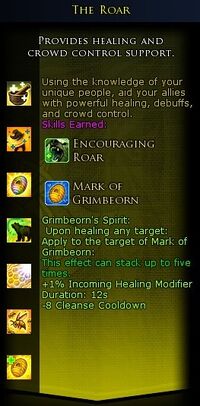 The Roar (Yellow line) is a Beorning Trait Tree. The other two trait trees of this class are The Hide and The Claw.
The Roar
Provides healing and crowd control Support.
Using the knowledge of your unique people, aid your allies with powerful healing, debuffs, and crowd control.
Skills Earned:
Grimbeorn's Spirit:

Upon healing any target:
Apply to the target of Mark of Grimbeorn:
This effect can stack up to five times.
+1% Incoming Healing Modifier
Duration: 12s
These skills are acquired by spending trait points in the The Roar (yellow) trait tree. You can only obtain the Set skills if you specialize in this tree.