The Fishing Hole
Jump to navigation
Jump to search
"I like this land. It reminds me of the twilit wilds, far away in the North, where my heart remains." - Calenglad
Location Stub
This article or section is marked for missing location information.
Please visit Create new location and help expand knowledge about this wondrous place.
Needs Landmark Infobox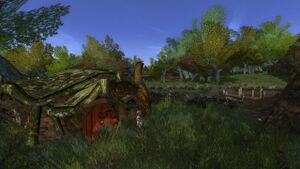 Location
The Fishing Hole is a location in the Gloomglens in Enedwaith. [63.2S, 24.0W]
When you leave Maur Tulhau, keep right and jump on the rocks at [63.1S, 23.1W]. Keep on westward to [63.1S, 23.6W]. You can reach the cottage running on the left side of the pond.
Deeds
The following deeds can be advanced by visiting this location:
NPCs